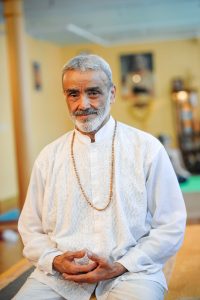 Sri Dharma Mittra has dedicated his life in teaching yoga, the ancient knowledge of how to attain radiant health and develop spiritually. Since 1967, he has been teaching Classical Yoga: advanced postures, Yama and Niyama and how to lead a content, simple and happy life.
He was born in the late 1930's, and has studied Yoga since 1958. After meeting his teacher guru, Sri Swami Kailashananda, he immersed himself in intense study and practice of the classical eight limbs of Yoga, and nine years of dedicated full time practice of Karma Yoga. He was accepted and initiated as a sannyasi (one who renounces the world in order to realize God). During these years Dharma had the esteemed honor of being the personal assistant to the Guru attending to all his needs. Sri Swami Kailashananda is known as the first Guru to bring the practice of Hatha Yoga to the west in the early 1950's.
Dharma taught only for his Guru with selfless expectation, after years as a full-time yogi and brahmachari, a celibate religious student who lives with his teacher and devotes himself to the practice of spiritual disciplines. He was the main demonstrator for the Yoga asanas at the many lectures the Guru gave to the public in the 60's and 70's. After being a celebrated teacher for many years at his guru's Ashram, he left in 1974 and founded the Yoga Asana Center, currently known as Dharma Mittra Yoga New York Center.
He is the author of Life of a Yogi, Asanas 608 Yoga Poses, Maha Sadhana Level I and II and loads of other great yoga material. Please check the Dharma Yoga Center store for more information.