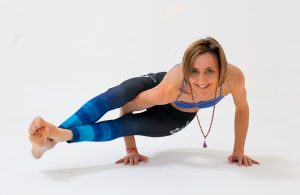 I started practising Yoga in 2007 when I was still a lawyer in an American law firm in the City. I fell in love with the practice and quickly realised that Yoga was not merely a physical practice but lead to self-enquiry and to a clearer mind. The positive changes I experienced in my life thanks to Yoga led me to change career in order to share those benefits with others.
I started practising Dharma Yoga in 2015 and met Sri Dharma Mittra that year when he visited London. His teachings – with his sense of humour, the teachings of my London Dharma Yoga teachers and the wonderful vibrations of the Dharma Yoga community led me to go to New York for a visit in 2016 and to train with him in 2017 and 2019, completing the 500-hour and 800-hour Life Of A Yogi Teacher Trainings.
My trainings also include a 200-hour Vinyasa Yoga teacher training with Stewart Gilchrist and Amanda Denton, a 5-day intensive with Richard Freeman and, over the years, countless workshops with many great teachers.
I am very happy to teach Dharma Yoga in London. I hope that my students realise that, thanks to their Yoga practice, health, clarity of mind, happiness and compassion in every day life increase. Be ready to practise in a playful environment, to give your best and feel the bliss at the end of class, which will carry you out through the whole day!
Classes
For my regular schedule and covers, please visit my website http://www.alixyoga.com/, or check out the 'Online Classes' section above. My classes are challenging, dynamic and meditative. I offer variations for all levels of practitioners.