= Fast food
= Pizza
 = International
 = Restaurant
 = Capital's leading & influential vegan eateries
 = Sweets
 = Cafe
(
 = PUB )
100% VEGAN EATERIES
Covent Garden & Soho Area
BY CHLOE
https://eatbychloe.com/2017/08/calling-london/
Delicious and dog friendly, London's Eat Chloe is super popular with vegans and non vegans alike.
Great for quick and casual lunch or dinner, they do vegan takes on English classics like fish and chips and sticky toffee pudding.
A DYL favourite is the Kale Caesar salad, the dressing is so good! They also do 'pupcakes' and biscuit bones for your little furry friends.
Brunch is available weekends
till 4pm
; There are no bookings, find your table and then order your food, it's busy but you never have to wait too long and the staff are very friendly.
(quinoa taco pictured)
REDEMPTION BAR
https://www.redemptionbar.co.uk
Great place for a special lunch or dinner; vegan, sugar-free and wheat free food with an alcohol-free bar, and dog friendly too.
They have branches in Covent Garden, Notting Hill and Shoreditch.
YORICA
https://www.yorica.com
VANTRA LOUNGEVITY
https://www.vantra.co.uk
A nice place to meet friends or grab a quick bite on your own.  In this small cafe with its blackboard menu and abundance of light and plants, you'll find raw and cooked vegan dishes as well as a buffet. This place has been around for years and there's plenty of reasons why; it's unpretentious, has a healthy buffet of hot and cold food, everything is vegan and most important of all everything is good!
They have an interesting selection of drinks including a variety of kombucha that's made in house, see the raspberry kombucha pictured.  They also do take away, fresh juices and have a variety of teas. Make sure you save room for desert, the raw cakes are healthy and delicious.
North & North East London
ARANCINI  BROTHERS
http://www.arancinibrothers.com
BIFF'S JACK SHACK
https://biffsjackshack.com
CLUB MEXICANA
http://www.clubmexicana.com
FEEL GOOD CAFE
http://www.thefeelgoodcafe.com
FIELDS BENEATH
https://www.thefieldsbeneath.com
Cute and cosy independent coffee shop and cafe that went fully vegan on mothers day 2017 when it ditched all its dairy in honour of all mothers  🙂
They have great coffee (they roast their own) and lots of sandwiches and cakes to chose from like gooseberry and elderflower cake, raspberry and rose cake, chocolate and almond croissants, the best banana bread and mouth watering breakfast bagels.  They are super friendly and also dog friendly, it's the kind of cafe every neighbourhood should have, you'll wish you lived nearer!
HORNBEAM CAFE
https://www.hornbeam.org.uk/cafe/
ITADAKI ZEN
www.itadakizen-uk.com 
Japanese restaurant focused on organic, vegan meals.
Authentic Japanese in a busy and bustling restaurant in Kings cross; make a reservation if you can or you may have to wait for a table.
Itadaki Zen is Europe's first vegan and organic Japanese restaurant.  They are open for lunch and dinner and have a delicious and healthy totally vegan menu with some gluten free options too.
Noodles, tempura, sushi, bento boxes and deserts; everything is cooked, presented and served with love, this place is a real gem.
MANNA
https://mannav.com
PARADISE PLANTBASED
https://paradiseplantbased.com
Pretty local cafe open for breakfast and lunch.  Lots of smoothies and superfoods, salads, raw cakes and hot food too.
Expect pink lattes, heart shaped cakes and the occasional cute dog ! 100% vegan with raw, gluten free and sugar free options.  Very laid back and friendly.
PUREZZA
https://purezza.co.uk
Plant based pizzeria, showcasing a range of exciting vegan sourdough pizzas, gluten free food, salad bowls, raw dishes, pasta and desserts.
DYL loves this place! At Purezza you'll find award winning and delicious pizzas!
The pizza here is sooooo good and because there are so many options it's hard to choose! Seitan, smoked tofu, wild mushrooms, pesto, cauliflower béchamel, garlic mayo, marinated tempeh and so much more! They also make their own cheese!  The staff are lovely and they are dog friendly too, so your fur baby can join you.  If possible, go at lunch time as it's cheaper than in the evening.
RUDY'S DIRTY VEGAN DINER
https://www.camdenmarket.com/food-drink/rudys-dirty-vegan-diner–eat-dirty-vegan-style or visit their Facebook page
Get your vegan junk food fix in Camden market.  The dirty fries are evil, in a good way!  We had the lobster rolls which were actually palm hearts and were scarily similar to lobster.
Burgers and hot dogs, mac and cheese – no salads or raw stuff here!  Come hungry and stuff your face with the perfect winter comfort food.
SPICEBOX
https://www.eatspicebox.co.uk
Based in Walthamstow.
TEMPLE OF SEITAN (Camden)
http://templeofseitan.co.uk
London Vegan Fast Food
This place is famous in the London vegan scene and when it first opened the queues were round the block!
Luckily there are 2 branches now, one East and one North.  DYL recommends the Camden branch; harder to find but it's bigger and on the canal, so you can sit down and enjoy your Seitan.
This is basically a vegan (and better!) version of KFC – the chicken burgers are to die for!  Fries with gravy, vegan coleslaw, lots of dips and even gluten free options.  There are also a few sweet options like cookies for afters, if you can manage any more!  The staff is cool and dogs are allowed too; you might find it hard not to come back on a regular basis! (See Below for Hackney Branch)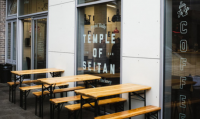 WHAT THE PITTA
https://whatthepitta.com
East Central: Clerkenwell, Shoreditch & the City
COOKDAILY
https://www.cookdaily.co.uk
London Fields
One of DYL's favourites; wonderful tasty filling bowls of really delicious Asian street food.  There's a great variety of options on the menu, an amazing cool London vibe and a definite recommend to anyone visiting London.  The owner and chef is a trail blazer in the vegan scene so it's not your average 'vegan' restaurant, no avocado on toast here!
A must try is the noodle bowl, spicy with extra chicken, but you could literally order anything from the menu and you would not be disappointed.
Cookdailly used to be in Box park but has now moved to London Fields; the new place is larger and has more tables.   Highly recommended!
ESSENCE CUISINE
https://www.essence-cuisine.com
ESSENTIAL VEGAN 
essentialvegan.uk/  – Shoreditch
Brazilian-inspired vegan café
DYL loves this little cafe in Shoreditch, it's cosy, warm and feels like a real labour of love.  The staff are really friendly and they also allow dogs too, they even sell vegan dog treats 🙂
The burger and the cakes are delicious (the pineapple cake is amazing), they also make really good vegan cheese that you can buy to take home.
The owners obviously care about what they do and are passionate about vegan food, so nice to have places like this in London.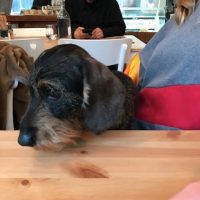 MOOSHIES
https://veganburger.org
Great little vegan junk food place in Brick Lane, they are dog friendly as well as human friendly!
The burgers and the fries aren't the prettiest but they are tasty and good value.
Recommend is the Fillet-O-Fish style burger and the cheesy fries.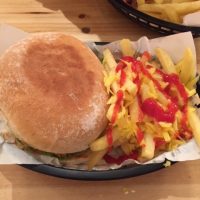 VIDA BAKERY
http://vidabakery.co.uk
If you want a classic victoria sponge filled with cream and delicious jam – look no further!
The two women that run the shop are usually around and are really nice and happy to chat.
They do lots of cakes and coffee and they allow doggies too which is always a plus.
They also take orders – The EPIC rainbow birthday cake (see pics) was made to order.
VURGER CO (THE)
https://www.thevurgerco.com
East London
BLACK CAT
https://blackcatcafe.co.uk
Brazilian-inspired Black Cat Cafe is a 100% Vegan and cooperatively-run space on Clarence Road
DOUGH SOCIETY
  Website TBC
EAT CHAY
http://www.eatchay.com
Vegan Asian food. Permanent location is in Boxpark near to Shoreditch Highstreet station). They have stools in markets (Borough Market & Brockley Market).
GALLERY CAFE (THE)
http://www.stmargaretshouse.org.uk/thegallerycafe/menu/
Gallery cafe is a simple local cafe with filling food like curries, burger, falafels, soups and sandwiches.
No 'trendy' East London vibe to be found here; just an unpretentious, warm and welcoming place that's good value for money.  They allow doggies and are open for breakfast, lunch and early diner (they close
at 6pm
)
JUSTFAB
https://www.just-fab.org
LELE'S 
https://www.leleslondon.com
MOTHER
https://www.mother.works
TEMPLE OF SEITAN (Hackney)
http://templeofseitan.co.uk
Tiny take away selling the best fried chicken in London.  When this first opened you had to queue for 30 mins and get there early because they always sold out!  Luckily the queues have died down a bit now so you shouldn't have to wait too long.  Order the Temple Spicy and make sure you get all the sides – fries, coleslaw and mac n cheese AND all the sauces; chipotle, ranch, lemon pepper and of course the GRAVY 🙂 If you want to eat-in, visit Camden branch (scroll up for the information in the North area).
UNRIPE BANANA
https://www.unripebanana.co.uk/about
South Central: London Bridge & Waterloo area
BIG V
https://www.bigvlondon.co.uk
BY CHLOE
https://eatbychloe.com/2017/08/calling-london/
ETHIOPIQUES
 Visit their Instagram page
South-East London
DESERTED CACTUS
 Visit their Facebook page
PICKYWOPS
https://www.pickywops.com
Hurrah ! Pickywops have at last just found a permanent residence at the Queens Head in Brixton. The Italian owners are so passionate about what they do and will take you though the menu and the process themselves.
If you thought you'd never have stuffed crust pizza again after you turned vegan, think again!  Lots of unusual bases to choose from like hemp, tumeric, burnt wheat, kamut, plantain (which is fruitarian and gluten free!) and many delicious toppings too such as seitan, coconut mozzarella, pesto, ricotta, rocket, aubergine, blueberries, vegan parmesan and so much more! Whatever your choice you can be sure it will be delicious!
RUBYS OF LONDON
https://rubysoflondon.com
South & South-West London
CAFE VAN GOGH
https://www.cafevangogh.co.uk
GET JUICED
http://www.getjuiced.co.uk
MS CUPCAKE
https://www.mscupcake.co.uk
VEGAN EXPRESS
http://www.veganexpress.co.uk
West Central: Chelsea & Notting Hill
JUICEBABY
http://www.juicebaby.co.uk
In Chelsea ( Kings' Road ) & Notting Hill Gate ( Westbourne Grove )
"L
ittle choices that make a big difference
"
Sustainable healthy food that is accessible and on the go; all the food here is locally sourced.  Using the
 best organic ingredients 
at the highest standards possible, they
 offer various yummy breakfasts and lunches (salad, bowls, sandwiches), 
cold-press juices and smoothies.  There's also a wide range of DESSERTS, too; their Raw Pumpkin Pie is a MUST TRY 😋 !
CPRESS JUICE
https://cpressjuice.com/collections/locations
100% organic coffee and juice shops, with lots of vegan options on its menu.  There are lots of locations around London, such as; Chelsea (Fulham Road), Triyoga Chelsea, Triyoga Shoreditch, Canary Warf and Fitzrovia.  The Chelsea (Fulham Road) location is the flagship store as well as the first Cpress shop.
WULF & LAMB
http://wulfandlamb.com
" Just veg, with edge"
Contempolary Vegan Restaurant in Fashionable Sloan Square, Chelsea SW1
REDEMPTION BAR
https://www.redemptionbar.co.uk
Great place for a special lunch or dinner; vegan, sugar-free and wheat free food with an alcohol-free bar, and dog friendly too.
They have branches in Notting Hill, Shoreditch and Covent Garden.
The interiors are very stylish and everything is beautifully presented.  Some inventive drinks on the menu and lots of food options that would satisfy non-vegans too.  It's not cheap but if you want a special night out it's a nice place to go.  You don't have to feel guilty afterwards and you wont get a hangover!
West London
222 VEGAN CUISINE
http://www.222vegan.com
A real gem, no frills and not fancy but lots of delicious food! Go for the buffet lunch it's such good value.
They do take away and a la carte dinner too.
The selection isn't huge but everything tastes good and you always end up going back for seconds.  The people are lovely and Green bay vegan supermarket is next door so you can pop there after for a bit of shopping.
Kensal Rise, West London
Comptoir is passionate about plant-based cuisine and want to make it exciting for vegan friendly restaurant with middle-eastern & Moroccan flavours of menu and design.
Vegan moroccan restaurant opposite the station in Kensal Rise, cosy interior and a few outside tables too.
Lot's to chose from like traditional Tagine and curries but also mac n'cheese, vegan shrimps and buddha bowls. We didn't order it but you can order mezze with a bit of everything that would be great for a big group. We had the Kofta tagine with 'meatballs' and the 'Aunty Esi' that was served with absolutely delicious homemade 'ghife' bread, both were good and the bread alone was worth the trip, it was flaky and buttery just like the ones we've had in Morocco. You have to have moroccan tea served the tradition way poured from a great height in pretty little glasses. The deserts are good too especially the moroccan pancakes. yum. The service was friendly and the waitress made recommendations when we were overwhelned with the amount of options, I recommend it, it's lovely little local restaurant.
CROSSTOWN
crosstowndoughnuts.com
Vegan donuts and coffee.
Their doughnuts are the best and the Marylebone branch is fully vegan.  Inventive and usual flavours and great coffee, macha and chai with loads of non-dairy milks to choose from.
The staff are friendly and very chatty, and dogs are also welcome.  The place is a bit tiny but if you can get a stool by the window it's a nice place to sit and enjoy your coffee and doughnut, otherwise get a big box to take home and share; the more you buy the cheaper it is, so stock up!
TELL YOUR FRIENDS
https://www.tellyourfriendsldn.com
Markets & more
CLUB MEXICANA
http://www.clubmexicana.com
Mexican food. They have branches in Shoreditch and The Spread Eagle, Homerton E9).
EAT CHAY
http://www.eatchay.com
Vegan Asian food. There are stools in markets (Borough Market & Brockley Market). Permanent location is in Boxpark near to Shoreditch Highstreet station (Central East area).
ETHIOPIQUES
 Visit their Instagram page
Vegan Ethiopian food. Market trader in Brick Lane and Southbank.
OSU COCONUTS
 Visit their Facebook page
POPULAR VEGETARIAN EATERIES with LOTS OF VEGAN DISHES
WILD FOOD CAFÉ – Neal's Yard (Covent Garden) & Islington
Plant based/raw.  Raw and whole food veggie cafe for organic dishes; there is no use of refined sugar, gluten, or over-processed ingredients such as wheat, peanuts and soy.
MILDREDS – Soho, Kings Cross, Camden, Dalston
DYL has a lot of LOVE for this place! Good for a casual lunch or special occasion dinner, Mildreds has been a long time favourite restaurant for vegans even before Veganism became popular in London.
You can't go wrong at Mildreds, one of the original London veggie restaurants.  The first and busiest branch is in a beautiful old townhouse in the heart of Soho, they don't take bookings so you might have to wait for a table but it's worth it; although there is a room upstairs that you can book for private dining.  The other three newer branches are bigger, modern and quite chic.
They aren't dog friendly which is a shame but you can order on Deliveroo too and enjoy at home.
Mildreds has a massive veggie menu with lots of vegan options, as well as gluten-free options; They are open for breakfast, lunch and dinner and they also do interesting vegan cocktails.  DYL recommends the epic vegan full English breakfast with fresh orange juice (pictured), perfect for a lazy
Sunday brunch
, or try the Sri Lankan curry for dinner with a side of sweet potato fries!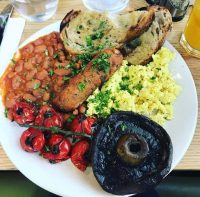 TIBITS – Mayfair, Southwark
Vegetarian and vegan restaurant with a buffet style lunch and dinner, take away also available. Salads, hot dishes, soups, sandwiches and desserts.
Heddon St, Bankside
Every
Tuesday (from 11.30am
onwards) the buffet food boat is completely vegan and free of any animal involvement.  On every other day the food boat is at least 80% vegan.  There are lots of vegan options and everything is clearly labelled.  The food is very varied so there should be something for everyone; the deserts are pretty good too, the sticky toffee pudding is especially yummy.
It's not the cheapest as it's done by weight, so keep an eye on how much you are putting on there, otherwise you'll get a shock; on the plus side it's quick and easy and they have lots of outdoor seating for the summer months.
FARMACY – Westbourne Grove
https://www.farmacylondon.com/
Plant based. Free from dairy, refined sugars, additives and chemicals.
A bit expensive but very nice, Farmacy is a beautiful restaurant with lovely staff; full of beautiful West London people (David Beckham is a diner – you get the idea!). Here you will find healthy comfort food, things like pizza and nachos and mac n cheese.  A good combination to order is the Mexican bowl and the O.M.G. shot (wildcrafted CBD, flaxseed oil & grapefruit) followed by the brownie sundae.  They do lots of fresh juices and smoothies and fun 'syringe shots' that are served in a actual syringe (see pic).  Lots of interesting ingredients are used such as mama, reishi, lucama, change and more that you might never even have heard of!  If you're into eating healthily and organic this place is a must.
DELICIOUSLY ELLA – Weighthouse Street, Mayfair
https://deliciouslyella.com/our-delis/weighhouse-street/
Plant based café.
The cafe is beautiful to look at and everything is healthy and delicious.  DYL highly recommends this place and it's also passed the test with many non-vegans so it's a great place to take your non-vegan friends.
They are dog friendly and have loads of seating upstairs and also downstairs so you never have to wait for a table.  There is hot food, salads, soups, cakes, hot drinks, juices and smoothes; everything is so good it's hard to choose what to have!  Recommend to try include the corn bread and chilli (pictured) and the brownies, which are the best!
Ella's cookery book is also a great resource for vegan recipes and dishes.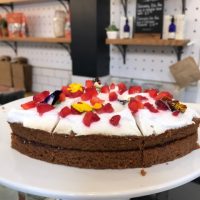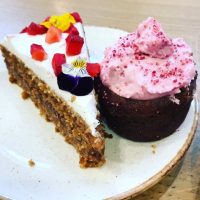 ETHOS – www.ethosfoods.com/ Central, Oxford Circus
Specialises in deliciously different meat-free, vegetarian, vegan and gluten free cuisine. Reservation essentials for lunch or dinner. Very relaxed atmosphere. They have many varieties of salads and desserts -choice of Vegan, Vegetarian and Gluten-Free and Ingredients clearly marked. Beautiful and colourful food.  On Sundays there is a buffet from 11:00 – 17:00.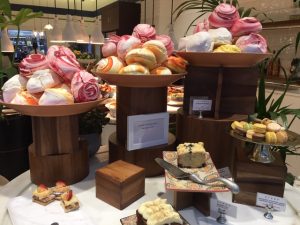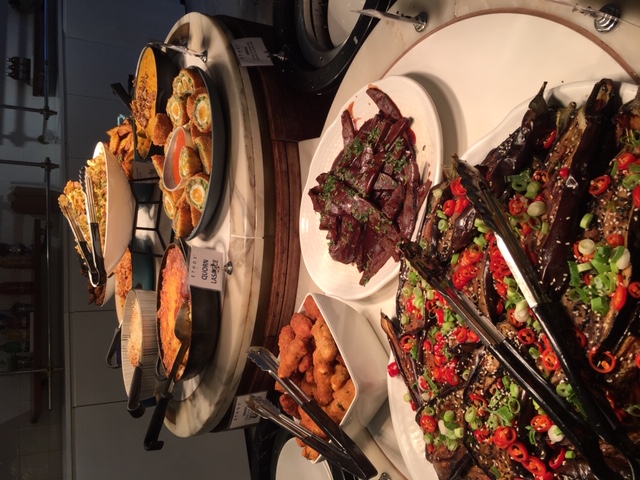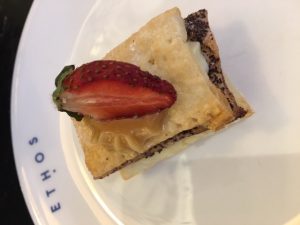 THE GATE RESTAURANT
https://thegaterestaurants.com 
-Marylebone, Angel and Hammersmith ( in St.Johns Wood opening in March )
One of the oldest vegetarian restaurant in the capital since 1989.
Offers inspiring vegetarian and vegan food with Mediterranean twist.  They are beautifully presented and delicious !
Enjoy the food in relaxed atmosphere.
FARM GIRL CAFE (£)
"a country farm house feel crossed with a California coastal vibe" Restaurant in Notting Hill, Chelsea(Kings Road and Fulham Road ) and Soho (in store cafe at Sweaty Betty).  Offers gluten Free, dairy free, nut free vegetarian, and vegan food.
Hidden in Notting Hill, expect to wait on weekends – this place is popular!  It's not fully vegan but there are lots of vegan options on the menu and plenty of cool vegan drinks; butterfly matcha anyone?
They have all the milk types you could ever want; almond, coconut, hazelnut, cashew, browns rice and oat, you can also add an extra shot of CDB oil to your drinks.  A recommendation off the menu is the coconut BLT, the coconut bacon is pretty good!
The seats are comfy and the interiors are beautifully done, they are dog friendly and there's a resident french bull dog who's face adorns the lattes (see pic).  It's a bit expensive but I guess that's the price you have to pay (no pun intended) for beautiful interiors and yummy food.
There's a newer, smaller branch with a smaller menu upstairs at the Sweaty Betty Superstore on Carnaby Street that's worth a visit too (see pic)
LEAF WILD (£)
Ladbroke Grove, West London.
Where Healthy Meets Heavenly
Healthy vegetarian cafe is a beautiful , contemporary space: designed to let you relax and enjoy wholesome food and delicious drinks.
❤️🙏❤️🙏❤️🙏❤️🙏❤️🙏❤️🙏❤️🙏❤️🙏❤️
** Our special thanks to Serena Lee, author of "Vegan London" a wondrous guide book to London's best vegan restaurants, cafés and food stores