What's available near LORD'S CRICKET GROUND / on ST JOHN'S WOOD HIGH STREET…
Unfortunately there is no vegan/vegetarian restaurant or shop nearby, however some shops have vegan/vegetarian options. The shops are listed in the order from south of the High Street near the venue (The Lord's Cricket Ground) towards St John's wood Tube station (see the map above).
The closest (2 minutes walk) to/from Lord's Cricket Ground (the venue of the Feb workshops).
Even though it's not a vegetarian restaurant,  this place offers a variety of healthy food with lots of Vegan, Gluten Free and Dairy Free Options, as well as cold pressed juices and smoothies.
10% discount for all take away and eat-in for Dharma Yoga Workshop attendees on 22-24 Feb.
 Present e-voucher to get a discount.
Lebanese Restaurant with some vegetarian/vegan options.
The South African café. Offers fresh food made with fresh ingredients.  Some Vegetarian/ Vegan, GF /DF options. 
NATURE'S HEALING GARDEN
Natural and Organic Health Shop
All day casual dining. Vegetarian/ Vegan menu available from 11:30am (Mon-Fri)/ 11:00am (Sat&Sun) until closing time.
5. STARBUCKS 
6. PRET A MANGER 
https://www.pret.co.uk/en-gb/our-menu
Very popular take away and eat-in cafe offers quality sandwiches, wraps, salads, juices, and soups.
Express Supermarket, groceries, juices, some pre-packed salads available.
Very popular Bakery chain offers various breads, cakes incl. GF bread and salads.
Artisan delicatessen, cafe bar, grocer and greengrocer, food from all over the world.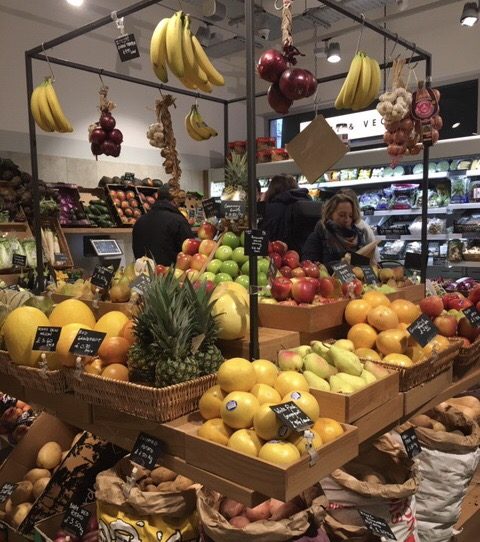 10. HELTER SKELTER ( BEATLES COFFEE SHOP )
at St.Johns Wood Station
Lots of Beatles Memorabilia sold here linked with Abbey Road which is 5 minutes walk from the station.
You can find Coffee and tea sold here and some cold press juices too.
If you want to go to a Vegan restaurant after workshop, there are so many lovely places we can recommend in London. Please check our VEGAN EATERIES in LONDON Page for the popular recommendations.